Improvements and Upgrades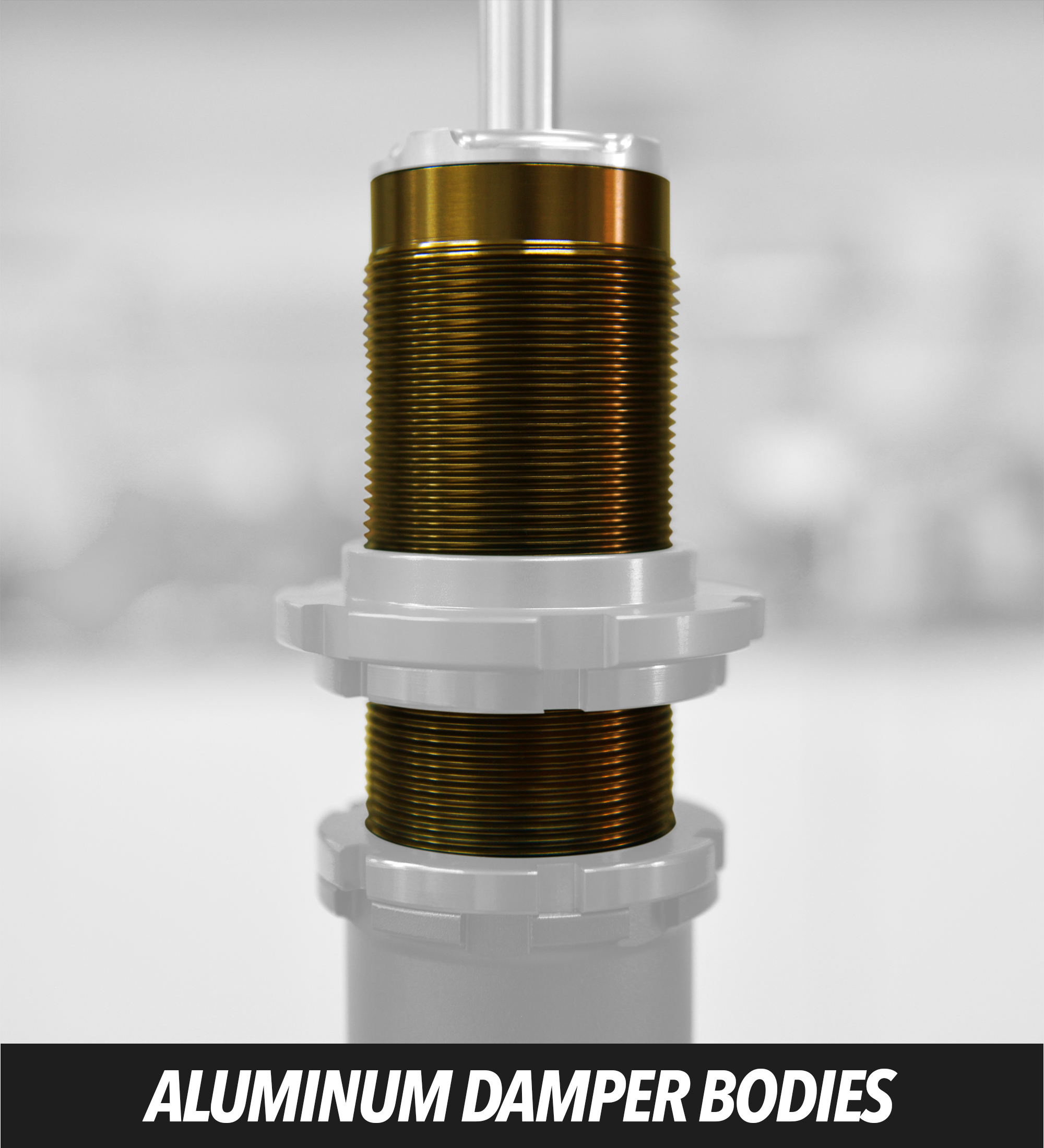 Please consult the application list for MAP Pricing (Min Advertised Price)  
Custom built to your specifications. 
Fortune Auto coilovers can only be purchased through authorized Fortune Auto USA dealers. Coilovers are shown with
green 

springs. Spring color is dependent on application and spring rate.

 

All coilovers are for off road use only and may never be installed on vehicles that will be driven on a public road or highway. 
510 Series coilovers are custom built to order.  Most applications have a 2-3 week lead time. Lead times for certain applications may vary. Product prices and applications are subject to change without prior notice
Legend | A: Aluminum | S: Steel | P: Pillowball Camber Plate | O: OEM Style | SB: Spherical Bearing | N: None | (S): Separate Spring
Model
Top Mount
Custom Rates Avl.
Year
Retail
F
R
AUDI
A3 (8V)
P
S
Y
2013~
$2,449
S3 (8V)
P
S
Y
2013~
$2,449
RS3 (8V)
P
S
Y
2015~
$2,449
ACURA
Integra (DC2)
A
A
Y
1994~2001
$2,449
NSX (NA1/NA2)
A
A
Y
1991~2005
$2,449
RSX (DC5)
P
S
Y
2002~2006
$2,649
BMW
3 Series (E36)
P
S
Y
1992~1998
$2,449
3 Series (E46)
P
S
Y
1999~2006
$2,449
3 Series RWD (E90/E91/E92)
P
N
Y
2006~2012
$2,449
3 Series RWD (F30/F31)
P
S
Y
2013~2020
$2,449
3 Series AWD (F30/F31)
P
S
Y
2013~2018
$2,449
3 Series AWD (G20)
P
S
Y
2019+
$2,449
M2 (F87) (Includes Front Endlinks)
P
N
Y
2016~
$2,449
M3 (E36)
P
S
Y
1995~1999
$2,449
M3 (E46)
P
S
Y
2001~2006
$2,449
M3 (E90/92/93) (Includes Front Endlinks)
P
N
Y
2007~2013
$2,449
M3/M4 (F80) (Includes Front Endlinks)
P
N
Y
2015~
$2,449
CADILLAC
ATS Coupe RWD
P
N
Y
2013~
$2,449
CHEVROLET
Camaro (5th Gen)
S
S
Y
2010~2015
$2,449
Camaro (6th Gen)
P
S
Y
2016~
$2,449
Corvette (C5)
SB
SB
Y
1997~2004
$2,549
Corvette (C6)
SB
SB
Y
2005~2013
$2,549
FORD
Fiesta ST
P
A
Y
2014~
$2,449
Focus ST
P
A
Front Only
2012~
$2,449
Focus RS
P
A
Front Only
2016~
$2,449
Mustang (S197) (Includes Front Endlinks)
P
N
Y
2005~2014
$2,449
Mustang (S550) (Includes Front Endlinks)
P
N
Y
2015~
$2,449
HONDA
Civic 4 (EF)
A
A
Y
1988~1991
$2,449
Civic 5 (EG)
A
A
Y
1992~1995
$2,449
Civic 6 (EK)
A
A
Y
1996~2000
$2,449
Civic 8 (FA/FG)
P
N
Y
2006~2011
$2,449
Civic 9 SI (FB/FG)
P
N
Y
2014~2015
$2,449
Civic 9 (FB/FG) (Not including 2014+ SI Models)
P
N
Y
2012~2015
$2,449
Civic 10 SI (FC) (Includes Front Endlinks)
P
N
Y
2016~2021
$2,449
Civic 10 Type R (FK8) (Includes Front Endlinks)
P
N
Y
2017~
$2,449
Fit (GE)
A
A
Y
2009-2014
$2,449
Fit (GD3) USDM
A
A
Y
2007~2008
$2,449
S2000 (AP1/2)
A
A
Y
2000~2009
$2,449
HYUNDAI
Veloster N (Includes Front Endlinks)
P
A
Y - Swift Springs Standard
2019+
$2,824
Kona N (Includes Front Endlinks)
P
A
Y - Swift Springs Standard
2022+
$2,824
INFINITI
G35 (V35)
A
A
Y
2003~2006
$2,449
LEXUS
IS300 (JCE10)
A
A
Y
1998~2005
$2,449
MITSUBISHI
Lancer Evo7/8/9 (CT9A)
P
A
Y
2001~2007
$2,449
Lancer Evo X (CZ4A)
P
A
Y
2008~
$2,449
MAZDA
Mazda 3/Speed3 (BL)
P
A
Y
2010-2013
$2,449
Miata/MX-5 (NA/NB)
A
A
Y
1989~2005
$2,449
Miata/MX-5 (NC)
A
A
Y
2005-2015
$2,449
Miata/Mx-5 (ND)
A
A
Y
2016~
$2,449
RX-7 (FC3S)
P
A
Y
1987~1992
$2,449
RX-7 (FD3S) *Limited Height Adjustment
A
A
Y
1993~2003
$2,449
NISSAN
350z (Z33)
A
A
Y
2003~2009
$2,449
370Z (Z34)
A
A
Y
2009~
$2,449
GTR (R35)
A
A
Y
2008~
$2,449
Pulsar GTiR (RNN14)
P
A
Y
1991~1995
$2,449
Silvia 180SX (S13)
P
A
Y
1989~1994
$2,449
Silvia 240SX (S14/15)
P
A
Y
1995~2002
$2,449
Skyline RWD GTST (HCR32)
A
A
Y
1989-1994
$2,449
Skyline AWD/GTR (BNR32)
A
A
Y
1989-1994
$2,449
SUBARU
BRZ (ZC6) (Includes Front Endlinks)
P
A
Y
2012~2021
$2,449
BRZ (ZD8) (Includes Front Endlinks)
P
A
Y
2022+
$2,449
Impreza WRX (GC8)
P
A
Y
1997~2000
$2,449
Impreza WRX (GDB)
P
A
Y
2001~2006
$2,449
Impreza WRX (GH8)
P
A
Y
2008~2014
$2,449
Impreza WRX (VA1)
P
A
Y
2015~2021
$2,449
Impreza WRX (VB)
P
A
Y
2022~
$2,449
Impreza WRX STI (GDB-F)
P
A
Y
2006~2007
$2,449
Impreza WRX STI (GRB)
P
A
Y
2008~2014
$2,449
Impreza WRX STI (VA2)
P
A
Y
2015~
$2,449
TESLA
Model 3 (RWD)
A
A
Y
2017~
$2,449
Model 3 (AWD)
A
A
Y
2018~
$3,599
Model Y (AWD)
A
A
Y - Swift Springs Standard
2020~
$3,599
TOYOTA
Corolla (E210) OEM Rear (Includes Front Endlinks)
P
N
Y - Front Only
2018+
$2,449
FRS (ZN6) (Includes Front Endlinks)
P
A
Y
2012~2021
$2,449
GR86 (ZN8) (Includes Front Endlinks)
P
A
Y
2022~
$2,449
MR2 (ZZW30)
P
P
Y
2000~2012
$2,549
Supra (A90)
P
S
Y
2020+
$2,449
Supra (JZA80)
A
A
Y
1993~1998
$2,449
Supra (MA70)
A
A
Y
1986~1992
$2,449
VOLKSWAGEN
Golf GTI (MK7)
P
N
Y
2013~
$2,449