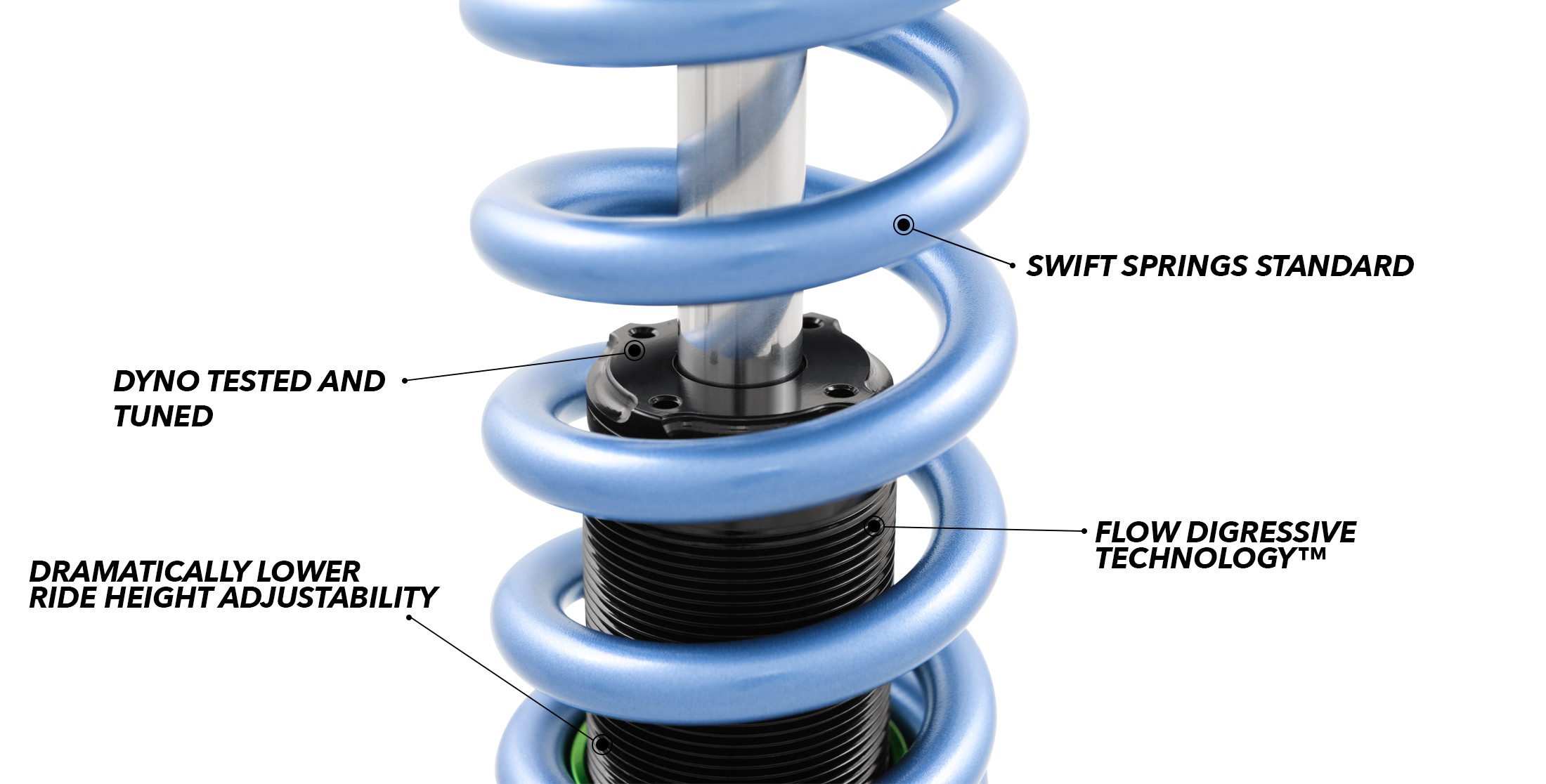 Please consult the application list for MAP Pricing (Min Advertised Price)  
Custom built to your specifications. 
Fortune Auto coilovers can only be purchased through authorized Fortune Auto USA dealers.
All coilovers are for off road use only and may never be installed on vehicles that will be driven on a public road or highway. 







	
Legend | A: Aluminum | S: Steel | P: Pillowball Camber Plate | O: OEM Style | SB: Spherical Bearing N: None | (S): Separate Spring





	
Model
Year
Top Mount
Spring Rate
Custom Rates Avl.
Retail



	
F
R
F
R



	
HONDA / ACURA Coilovers



	
Civic 5 (EG) USDM
1992~1995
A
A
12K
10K
Y
$2,249



	
Civic 5 (EG) JDM
1992~1995
A
A
12K
10K
Y
$2,249



	
Civic 6 (EK)
1996~2000
A
A
12K
10K
Y
$2,249



	
Civic 8 (FA/FG) (Separate Style Rear)
2006~2011
P
N
10K
8K (S)
Y
$2,249



	
Civic 9 (FB/FG) (Not including 2014+ SI Models) (Separate Style Rear)
2012~2015
P
N
10K
8K (S)
Y
$2,249



	
Civic 9 SI (FB/FG) (Separate Style Rear)
2014~2015
P
N
10K
8K (S)
Y
$2,249



	
Integra (DC2) JDM
1993~2000
A
A
12K
10K
Y
$2,249



	
Integra Type R (DC2) JDM
1995~2000
A
A
12K
10K
Y
$2,249



	
S2000 (AP1/2)
2000~2009
A
A
11K
11K
Y
$2,249



	
TSX (CL9)
2004~2008
A
A
14K
10K
Y
$2,249



	
BMW Coilovers



	
1 Series (E81/E82/E87/E88) (Separate Style Rear)
2007~2013
P
N
10K
13K (S)
Y
$2,249



	
3 Series (E30) (Separate Style Rear) (Front Requires Welding)
1985~1991
P
S
10K
12K (S)
Y
$2,249



	
3 Series (E36) (Separate Style Rear)
1992~1998
P
S
10K
12K (S)
Y
$2,249



	
3 Series 318Ti (E36/5) (Separate Style Rear)
1993~2000
S
S
10K
12K (S)
Y
$2,249



	
3 Series RWD (E46) (Separate Style Rear)
1999~2006
P
S
10K
12K (S)
Y
$2,249



	
3 Series RWD (E90/E91/E92) (Separate Style Rear)
2006~2012
P
N
10K
13K (S)
Y
$2,249



	
3 Series AWD (E90/E91/E92) (Separate Style Rear)
2006~2011
P
A
10K
13K (S)
Y
$2,249



	
3 Series RWD (F30) (Includes Front Endlinks) (Separate Style Rear)
2013+
P
S
11K
14K (S)
Y
$2,249



	
3 Series AWD (F30) (Includes Front Endlinks) (Separate Style Rear)
2013+
P
S
10K
14K (S)
Y
$2,249



	
5 Series (E28) (Front Requires Welding)
1982~1988
P
A
12K
10K
Y
$2,249



	
M3 (E30) (Separate Style Rear) (Front Requires Welding)
1985~1992
P
S
10K
12K (S)
Y
$2,249



	
M3 (E36) (Separate Style Rear)
1995~1999
P
S
10K
12K (S)
Y
$2,249



	
M3 (E46) (Separate Style Rear)
2001~2006
P
S
10K
12K (S)
Y
$2,249



	
M3 (E90/92/93) (Includes Front Endlinks) (Separate Style Rear)
2008~2013
P
N
10K
14K (S)
Y
$2,249



	
Z3 M (E37) (Separate Style Rear)
1998~2002
P
S
10K
12K (S)
Y
$2,249



	
Z4 M (E85) (Separate Style Rear)
2006~2008
P
S
10K
12K (S)
Y
$2,249



	
HYUNDAI Coilovers



	
Kona N (Includes Front Endlinks)
2021+
P
A
9K
7K
Y - Swift Included
$2,249



	
MAZDA Coilovers



	
Miata/MX-5 (NA/NB)
1989-2005
A
A
10K
8K
Y
$2,249



	
Miata/MX-5 (NC)
2006-2015
A
A
10K
8K
Y
$2,249



	
NISSAN / INFINITI Coilovers



	
350Z (Z33)
2002~2008
A
A
12K
10K (S)
Y
$2,249



	
370Z (Z34)
2009~
A
A
13K
10K (S)
Y
$2,249



	
Cedric / Gloria (Y32) (Includes Front Endlinks)
1991~1996
P
A
12K
10K
Y
$2,249



	
G35 (V35)
2002~2007
A
A
12K
10K (S)
Y
$2,249



	
G35/G37 (V36)
2007~2013
A
A
12K
10K (S)
Y
$2,249



	
Silvia 180SX (S13)
1989~1994
P
A
9K
8K
Y
$2,249



	
Silvia 240SX (S14/15)
1995~2002
P
A
9K
8K
Y
$2,249



	
Skyline GTST (HCR32) 
1989~1994
A
A
14K
10K
Y
$2,249



	
Skyline GTR (BNR32)
1989~1994
A
A
14K
10K
Y
$2,249



	
Q50 (V37) AWD
2014+
A
A
16k
12k
Y
$2,249



	
PORSCHE Coilovers



	
Boxster (987)
2005~2012
P
SB
9K
13K
Y
$2,099



	
Cayman (987) Non-PASM
2005~2012
P
SB
9K
13K
Y
$2,099



	
SUBARU Coilovers



	
BRZ (ZC6) (Includes Front Endlinks)
2012~
P
A
8K
9K
Y
$2,249



	
Forester (SG)
2003~2007
P
A
10K
8K
Y
$2,249



	
Impreza / WRX (GC8)
1997~2000
P
A
10K
8K
Y
$2,249



	
Impreza / WRX (GDA)
2001~2007
P
A
10K
8K
Y
$2,249



	
Impreza / WRX (GH8)
2008~2014
P
A
10K
10K
Y
$2,249



	
Impreza / WRX (VA1)
2015~
P
A
10K
10K
Y
$2,249



	
WRX STI (GDB)
2004
P
A
10K
8K
Y
$2,249



	
WRX STI (GDB-F)
2005~2007
P
A
10K
8K
Y
$2,249



	
WRX STI (GRB)
2008~2014
P
A
10K
10K
Y
$2,249



	
WRX STI (VA2)
2015~
P
A
10K
10K
Y
$2,249



	
TOYOTA / LEXUS Coilovers



	
FT-86 (ZN6) (Includes Front Endlinks)
2012+
P
A
8K
9K
Y
$2,249



	
GS300/Aristo (JZS160/161)
1997~2004
A
A
16K
14K
Y
$2,249



	
IS200/Altezza (SXE10)
1998~2005
A
A
14K
8K
Y
$2,249



	
IS300 (JCE10)
1998~2005
A
A
14K
10K
Y
$2,249



	
SC300/400 (JZZ30)
1992~1999
A
A
14K
10K
Y
$2,249



	
LS400 (UCF10)
1990~1994
A
A
14K
10K
Y
$2,249



	
LS400 (UCF20)
1995~2000
A
A
14K
10K
Y
$2,249



	
LS430 (UCF30)
2000~2007
A
A
14K
10K
Y
$2,249



	
Supra (MA70)
1986~1992
A
A
14K
10K
Y
$2,249



	
Supra (JZA80)
1993~1998
A
A
14K
10K
Y
$2,249